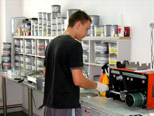 In order to meet our customers needs we created and suitably equipped the laboratory and paint mixing room. We offer short production and delivery terms due to the professionalism of our employees. We mix colors based on the ordered colors according to:
Pantone PMS
HKS
sample provided
We use the components of SunChemical Hartmann, we also use suitable chemical additives for mixing paints to receive the paint with perfect parameters. All the formulas for the ordered paints are archived to obtain the valid parameters for the following orders.
We offer paints for coated base, uncoated base, no lacquer and prepared for putting lacquers. We also mix metallic colors.
We also make trial printing on the Orange machine, if customer wishes it.

Mix offset paints are offered in the packages ranging from 1 to 20 kg. We offer hermetically closed containers (metallic ones) of 1 and 2,5 kg.

Flexographic paints are offered in the following packaging:
water-based: from 5 kg (twist top canisters), 10 – 30 kg (plastic buckets)
solvent based: metallic buckets of 25 kg.